Golden Age comics continue to live up to their promise of insanity and violence as we present a vintage Sub-Mariner story that straddles the fine line between "whimsical" and "mind-ruining." After reading this website, please donate it to your nearest paper drive! Let's help whip the Axis!



In this charming story, entitled "Blitzkrieg Of The Living Dead", right off the bat we're told of the threat posed by "Nazombies" who "laugh at death". Since we're all still laughing at the term "Nazombies", I guess that makes us even.



A manly and totally non-sexual play-date between Timely superheroes Sub-Mariner (he's the one in the black trunks) and the Angel (he's the guy in the tight leotard and the little moustache) is interrupted by a dead man, a letter, and an amplified warning delivered from a conveniently off-panel airplane. This is from the era when Prince Namor talked like a Dead End Kid, sprinkling his speech with terms like "bums", "nuts", and "screwy".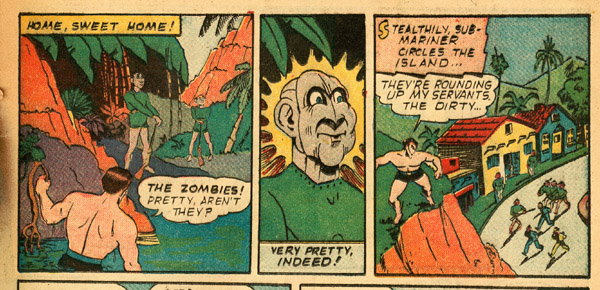 Guys in gray masks and green leotards holding rifles? I think we're in for a rather free interpretation of the term "zombie." I was also not aware that Sub-Mariner owned an island and had servants. Who does he think he is, Mister Roark of Fantasy Island?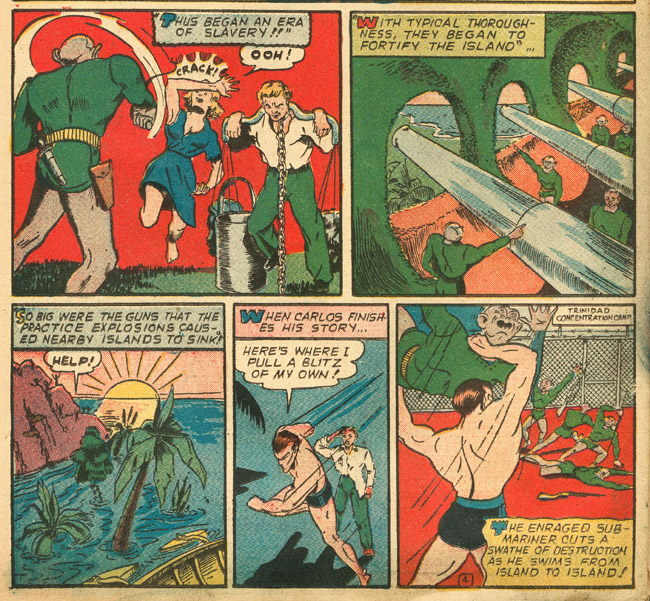 That's what zombies do, they enslave people! Not the other way around! Also they have Zombie Cannons that can sink not only battleships, but islands. This story is making me see zombies in a whole new light.



Here the Sub-Mariner frees a travelling road show performance of "Uncle Tom's Cabin."



The freed prisoners immediately take over the planes of the Zombie Air Force and start bombing the Zombie Oil Tanks with Zombie Bombs. Author's notes for this story: "just stick the word "zombie" in front of everything."



As the Zombies pose a new challenge by getting into their Zombie Shark Machine Gun Diving Suits, the Sub-Mariner meets the threat head-on by the simple expedient of... running away. You go, Sub-Mariner!



And if you think the Sub-Mariner might use this island as a base, send your zombies down in diving suits (because zombies need to breathe too, right?) and just dynamite the entire island to bits. This is possibly the most whimsical, charming, children's-book style illustration to ever depict an army of submersible walking corpses using mining equipment.



THE BLOOD OF SECOND BANANA TIMELY SUPERHEROES WAS SHED FOR YOUR SINS! forgIVE THEM FATHER FOR THE NAZOMBIES KNOW NOT WHAT THEY DO!



And in a shocking turn of events, our heroes beat everybody up and win. The end!



THUS ENDETH THE NAZOMBIE MENACE! You know, when the Comics Code Authority was established in the 1950s, one of their rules forbid the use of the term "Zombie". I think it was this story in particular that they were thinking about.
But wait, what's coming soon from Timely Comics? The Young Allies!



Let's join Bucky and Toro and... um... Whitewash, uh Jones, who can make a harmonica talk, a watermelon disappear, and a civil rights investigation committee sit up and take notice! On the other hand, the less said about "Tubby Tinkle", the better. Believe me.
Also note the Rogues Gallery of Evil Dictators getting their ass beat on the cover - Tojo, Mussolini, Hitler, and in the pinko corner Uncle Joe Stalin! This dates YOUNG ALLIES as appearing during the confusing time of the Hitler-Stalin pact, when Soviet Russia had gone from being "wonderland of the socialist future" to "dictatorial bully", but before they became "our Nazi-fighting pals," which later morphed into "Those Dirty Reds" and then later changed to "Yakov Smirnov" and "mail order European bride." Who says you can't learn anything from comics?

PREVIOUS STUPID COMICS

NEXT STUPID COMICS

BACK TO STUPID COMICS INDEX

BACK TO MAIN INDEX