Oral Roberts - founder of Oral Roberts University, charismatic TV preacher, faith healer... comic book publisher? Yes. Oh God yes.



Today's issue of ORAL ROBERTS TRUE-LIFE ADVENTURE FUNNIES may shock you - it's about a guy who's been to jail 200 times! I bet he must have killed a BUNCH of cops!



No, wait, he was just a drunk. A wildly hallucinating drunk, mind you, but still, a garden variety alky.



Of course when Bunk gets drunk, OUT COME THE SNAKES!!



Whew, they're gone. That was scary. Now BACK TO DRINKIN'!!



YAAAAAAA



"Do you think the Snake Ward is the best place for him?" "Oh, I'm sure he'll be fine."



"Also he's been severely bitten by lots of snakes, and a giant elephant took a pink dump on his head." Meanwhile back home, his saintly white haired mom is feeding every tramp who comes by, just to keep the memories of her skid row son alive.



"And Jesus, please let me teach him the joy of cooking with SPRY!"



Meanwhile in jail, prisoners are forced to work on the chain gang, make license plates, endure daily beatings and mess hall riots, and local church ladies come by to play the accordion. IT'S A MADHOUSE


Now let's look at the same scene in MAN-O-VISION and see what it looks like when filtered through the MAN-BRAIN.



Luckily the capricious whims of a unknowable God soon turn in Bunk's favor!



(LaVern Baker) He used to smoke, drink, and dance the hoochie-koo, but now he's SAVED!! He used to lie, cheat, and step on people's feet, but now he's SAVED! That's right he's SAVED!



And after God works his miracle magic on Bunk and SAVES him, then it's off to the hospital. Not that those doctors or medical science do anything for him, it's all GOD'S HEALING POWER. That's right, Bunk, tell the GUY WHO JUST SAVED YOUR LIFE that he DIDN'T DO JACK SHIT, it was ALL GOD. I guess the next time you're in the hospital we'll just let GOD change your bed pans.



After mailing his mom a post card Bunk arrives home, free from pink elephants, snake attacks, and TB. But don't take our word for it! Check out this newspaper editorial!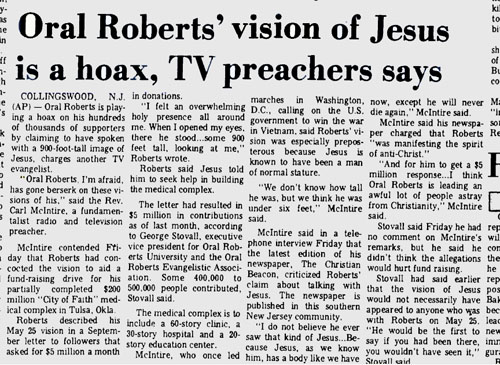 Oh wait, wrong editorial. Oh well, some people see snakes and pink elephants, others see 900 foot Jesuses - it's all part of God's Plan. Or drinking. Whichever.

PREVIOUS STUPID COMICS

NEXT STUPID COMICS

BACK TO STUPID COMICS INDEX

BACK TO MAIN INDEX