As Mister Kitty systematically researches every single comic book ever published in the hopes of finding something to poke fun at on the Internets, we occasionally find a panel or two that, while amusing, don't really "fit in" with whatever topic we're highlighting at the moment. Images that don't "play well with others". So we take those images and throw them in a box and when the box gets full enough, out it comes, right at you. LOOK OUT!!
We'll start with a scene from next year's AVENGERS movie!



I always figured Captain America as a sucker for far out fantasy. When he's not battling the Red Skull you can find him LARPing down at the Renfest. His elf name is "Starchest Winghead".

But if there's one thing we've learned from comic books, it's how to attract the ladies.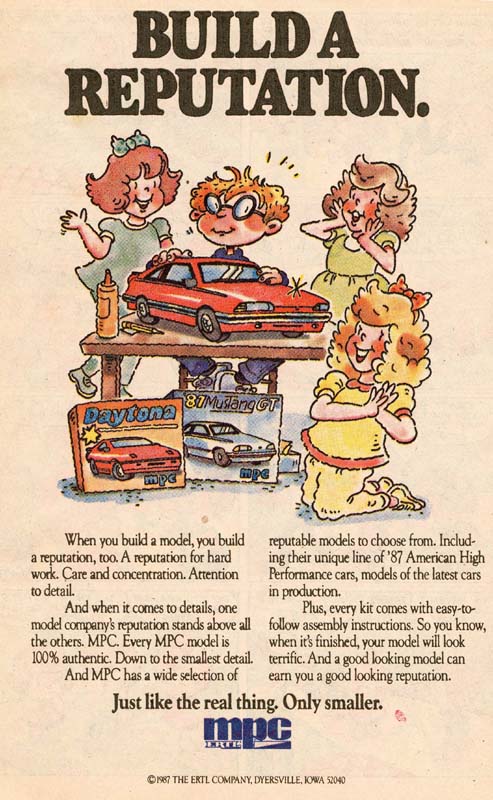 Is there a better way to impress the neighborhood girls than by building model cars? Well, there is.



Chicks REALLY dig MODEL RAILROADS. "Oh Reggie, how dreamy!" But there's one thing they like even more!



Comic books! No date for YOU, Alice, I just got this swell book with big glossy photos of the balding, cigar-smoking men who write and draw my favorite comics!! Also contains a SURPRISE OFFER from Stan Lee. Make sure to obtain legal advice before accepting this offer.

Meanwhile comics can warn us of things young athletes should avoid at all costs.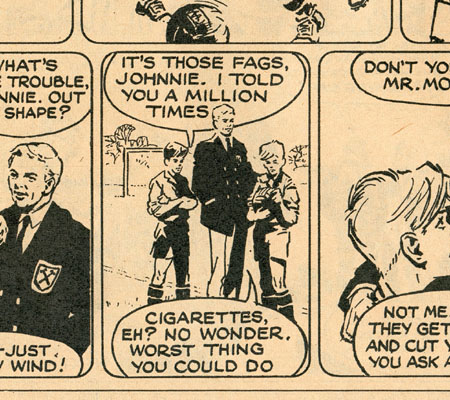 Yes, young people should stay away from fags! I've told you a million times! See, it's funny, because in England, a "fag" is...

Meanwhile in England Richie Rich is visiting.



"Harbor" becomes "Harbour", "hot dogs" become "sausages", and "mum" becomes "Mom". Also Dollar the Dog is now "Pound the Pooch" and "dentistry" is "nonexistent".

THINGS YOU DIDN'T KNOW ABOUT THE SMURFS:



Occasionally they damn each other to the firey pits of Hades.

MEANWHILE LATE THAT SAME NIGHT:



Alternate title: "Caught Spankin' It"

AND IN THE CATEGORY OF "THANKS, I THINK..."



What better way to celebrate breakdancing than to get a bunch of white teens to dress up like a fistfight between the Sex Pistols and Dexy's Midnight Runners? Not that that wouldn't be fun to watch.



I own this comic, and I'm STILL not sure what the hell is going on here. But it gives us this image of Reggie flippin' the bird, and that's all that matters.

Speaking of Archie comics, I wonder what KATY KEENE cartoonist Bill Woggon is up to?



Looks to me like he's halfway through that sack of magic mushrooms and deep into a psychedelic experience that will change the way he views reality forever! Good for you Bill.

Meanwhile here's some youth oriented behavior advice from Superman.



So if you're not invited, then don't crash the party, because that's tresspassing, and against the law, but if we ARE invited it's OK. But if not, we should leave right away. Except on alternate Tuesdays in months ending in "R". So if we can't crash parties, what ARE bored teens to do with their time?



Let's deface comic books! That'll kill a few hours.

Okay we're down to the bottom of the mystery box. We present this last panel with the assurance that it comes to you exactly as was printed in a Code-approved comic book that was sold openly to children on America's newsstands.



Hey, didn't we warn you to "look out" at the top of the page! I think we did!

PREVIOUS STUPID COMICS

NEXT STUPID COMICS

BACK TO STUPID COMICS INDEX

BACK TO MAIN INDEX